A mobile sauna is possible. How to make the right choice
Настя
February 20, 2020
Everybody knows that the benefits of the sauna are great. It is very useful for your body and for your soul. But not everyone knows about all the effects of the sauna. Yes, of course, it cures diseases and stimulate the immune system, but this is not the whole list. Due to sauna procedures, toxins are eliminated and skin becomes cleaner. The sauna also relaxes the muscles and tones the basic life support systems of the body.

According to various kinds of written sources that carry us back to the Stone Age, the first sauna appeared about 2.5 thousand years ago. The historian Herodotus took pleasure in describing the rite of purification by means of perspiration during a visit to the sauna. The Greeks, Spartans and other peoples have references to the sauna.

A modern stationary sauna is a rather complicated engineering structure, requiring the observance of many standards and special calculations. If you want to regularly visit the sauna, you will have to design a stationary sauna at home or go to a public sauna. Both variants require the input of significant resources.

Would you be surprised if you were told that it is possible to have a sauna even in hiking conditions, not to mention having sauna at home?

Nowadays, a new product has appeared on the markets. It is a camping tent sauna MORZH. MORZH means a universal tent with a furnace, which can be used both as a winter tent for living on fishing, and as a mobile sauna. Strong but lightweight duralumin frame of MORZH tents ensures reliability and long use. No worries about transportation - these tents are mobile and you can take it with you anywhere. There are several models of tents MORZH with different characteristics which heat up to 100C in 30 minutes. But how to choose the right one?

An excellent choice is MORZH LIGHT (2.05 x 2.05 m). It is a budget and compact tent with a large window. Its weight is only 6.2 kg, but believe me, it has everything you need: the durable frame, the awning with waterproof impregnation, the ability to install any sauna furnace. MORZH LIGHT has pockets inside and a special net for storing and drying things. If you love outdoor rest or taking a steam bath in a hot sauna, then MORZH LIGHT will be a great addition for you on vacation. You can take it with you on a hike (the tent and the furnace fit in 2 bags). MORZH LIGHT gathers in 5 minutes and heats up to 100 degrees in 30 minutes. The low weight is an extra bonus.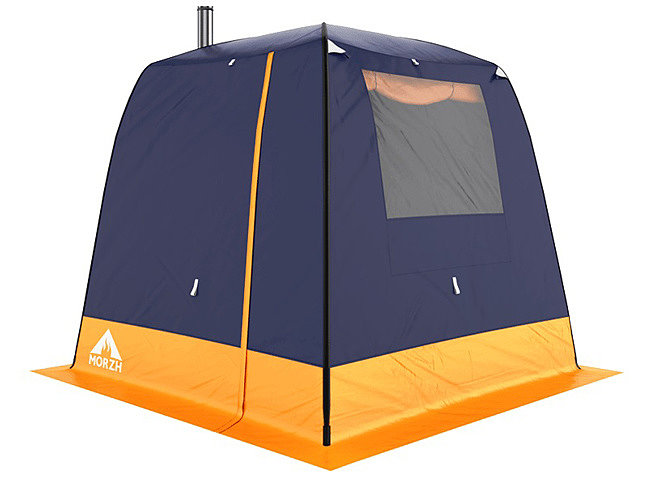 Another good variant is a standard MORZH (2.05 x 2.05 m). This product is a sales leader. Its distinctive feature is the modern 3-layer awning. Through the use of 3-ply materials, the tent keeps the heat much longer than single-layer options. It weighs a little more than MORZH LIGHT, but it also can be used with any furnaces and heat exchangers. The furnace can burn actively in order to make a mobile sauna or burn for a long time for living. Great tent for a great vacation! Available in different colors, as well as other tents.
But what if you are looking for a big and comfortable camping tent sauna that will accommodate whole your family or friends? We have something to offer even in this case. MORZH MAX! With dimensions 2.3 x 2.96 m, it can fit up to 10 people. The advantage is not only a large space, but also the ability to use two furnaces at once for better heating. MORZH MAX also has a three-layer awning and heats up to 100 degrees and more. MORZH MAX is a wonderful tent in which you can take a steam bath and have a great time with the company.

"I have already bought a standart MORZH tent, but I want more space" you might say. And we will answer that this is not a problem! You can order a cover-vestibule. The vestibule allows to increase the size of the useful area of the tent (1,2 m long, 2 m wide), for a standard tent. An additional useful area can be used to store things or equipment. Also it can be used as a place for changing clothes and relaxing. Cover-vestibule has a small weight and glued seams. It is easy to assemble and it provides additional protection from rain.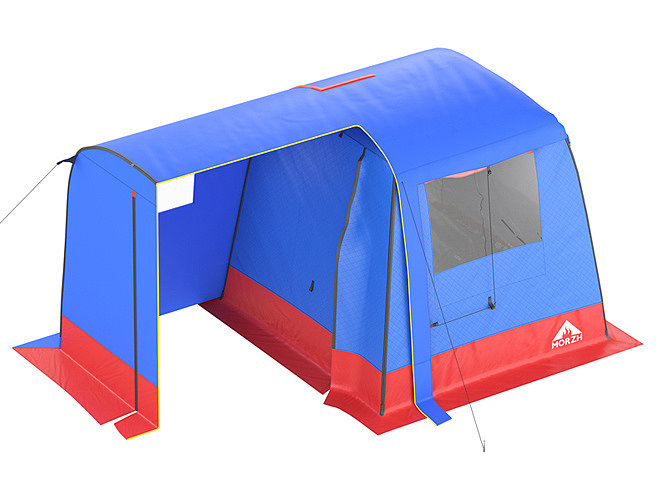 Well, the mobile sauna MORZH warms in the cold weather and also balances your mental and physical state. It is the universal tent, and you can even buy various accessories in addition to it. All the arguments for the MORZH tent sauna are relevant in any season: it is physical and mental relaxation, improvement of the emotional state, as well as blood circulation. Regular visitors of the sauna train their blood vessels and it ensures a stable state of health.

Do not deny yourself the pleasure to order your own mobile sauna and enjoy its pleasant warmth. Сhoose any tent sauna you like in our range. By the way, the so-called "sauna effect" is manifested precisely due to the constant, at least weekly sweating in the sauna.