Which sauna can be portable?
Relaxing in the sauna is a great way to spend a weekend with health benefits. So you can forget about the bustle of everyday life, phone calls and TV. Hot air in the sauna makes our breathing slow and calm, relaxes the body and the soul. Sauna has a positive effect on the skin, cleansing the body of toxins. Sauna procedures renew our body, give a feeling of lightness throughout the body.
Certainly, many people love this type of relaxation and would like to have their own sauna to use it whenever they want. But what if there is no way to build a stationary sauna? Various options for a portable sauna can be considered.
What portable saunas can be like? In fact, there are many types of it. You may be surprised, but the modern market can offer you a large number of options. And you just have to choose the right one for you.
1. Bag sauna
A portable bag sauna is considered as a unique device. It is compact, comfortable and durable. At the same time, it has a positive effect on health and is much cheaper than the stationary sauna.
The bag sauna is like a small bag equipped with special cuts for the arms and head. During the procedure, you can talk on the phone, read a book, or do other things. It can take up only one square meter. The smallest ones are designed for one person, but there are also models which can accommodate two people. You can find steam bag saunas - they have a special tank with water, which turns into steam when heated. There are also infrared saunas, which provide a more gentle thermal effect.
But such a sauna has its drawbacks. You will not be able to take a sauna with a big company. Also it can not be used without electricity (bag saunas work from an electrical supply network), and this means that in nature it is useless. Many people also think that the bag sauna is not comparable with the traditional sauna spirit.
2. Barrel sauna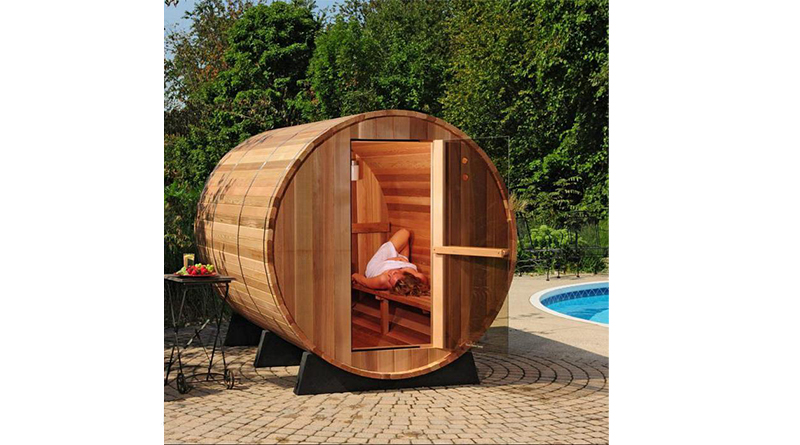 Lovers of anything unusual can definitely enjoy the barrel-shaped design. This type of mobile sauna is usually made from materials such as oak, linden, aspen or cedar. The compact dimensions of the barrel sauna allow to install it on a small area. It takes very little space and can be easily transported to another place without difficulty. The obvious advantage of this portable sauna is in its appearance. Barrel sauna is unusual and beautiful in its way. It will look great near your country house. Also it heats up very quickly and has useful properties due to the fact that it is made from environmentally friendly materials. After all, everyone knows about the healing power of wood.
At first glance, it may seem that such a construction can bring only advantages, and there can be no negative moments. But unfortunately, there are several disadvantages that you must definitely consider when you choose this type of portable sauna. Wood material swells from moisture, and when it dries, a certain movement occurs. Therefore, you will have to constantly monitor how tightly metal fastenings are held. It is also worth mentioning that when using such a sauna in the winter, you will have to do additional insulation. Because of the thin wall construction, barrel sauna is not able to retain heat in frost. The barrel sauna cools quickly. But despite this disadvantages, interest in such a portable sauna never disappears. Modest dimensions will not affect comfort in any way. The barrel sauna can accommodate four or more people, depending on the length.
3. Tent sauna
A couple of years ago, tent saunas were a rare thing, but today there are many models that will satisfy every customer. This kind of portable saunas has a lot of advantages and is a real gift for sauna lovers. Tent sauna means a tent with a stove inside. Usually it has a strong metal frame and a high-strength awning that protects the structure from rain, snow, wind, and frost. Tent sauna can be used without a sauna stove, in which case it turns into a camping tent. All this makes it ideal for outdoor enthusiasts, fishermen, hunters. Disassembled kit of the tent sauna can easily fit in the trunk of a car, and therefore there should not be any problems with transportation. Another important plus is that it is easy to assemble. It takes 5-10 minutes.
It is important to remember a number of requirements for tent saunas. Firstly, it is environmental friendliness. The material of the tent should not form toxic substances when heated. Secondly, an equipped place for the stove (chimney hole, heat-resistant fabric in places where the stove touches the awning of the tent sauna). Thirdly, the ventilation system.
All these requirements are quite well satisfied by the tent sauna MORZH. MORZH is a reliable brand that promises comfortable using. Its distinctive feature is a special three-layer awning that makes it possible to make a very hot sauna and keep warm for a long time.
So, thanks to the functionality and compactness, portable saunas are widespread. Nowadays, there are such portable models that can be used outdoors or even in apartments. And sauna lovers have the opportunity to enjoy their favorite pastime at any convenient time.