Garden sauna
People are renewing their interest in saunas. They understand that no modern medicines can replace sauna procedures. After all, sauna maintains excellent physical shape right up to old age. Garden saunas are becoming more popular.

The modern life rhythm simply requires a person to rest not only with his body, but also with his soul. To relieve the stress of big city, the best option is garden sauna.
In nature, a person can fully relax, for example, doing gardening. Well, sauna procedures will add even more harmony.
However, not everyone can afford a large area to comfortably accommodate a garden, a sauna, and other outbuildings. What should be a garden sauna if you have a small backyard? Mini sauna is perfect for this.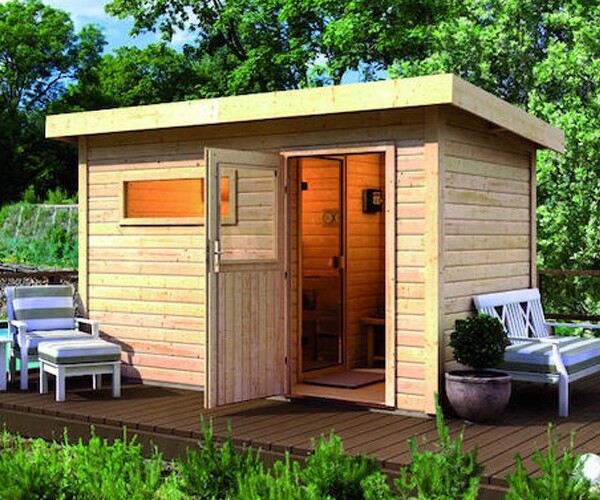 What are the features of a mini sauna in a garden area?
For the garden, choose a small sauna made of inexpensive material. You can assemble a frame structure, so you do not have to carry out a massive foundation. The main thing is that the garden sauna meets a number of requirements:
ideally includes not only a steam room for 2-3 people, bt also a dressing room, a changing room;
wood burning heater, since not everywhere is electricity, and firewood is always available;
it is 4 seasons;
located at a distance from your house and not closer than 1 m to neighboring houses;
minimum costs;
all work can be done by yourself.
Garden sauna should be functional. The time for warming up should not exceed 40 minutes in summer, and in winter - 1 hour (usually in traditional saunas it takes about 3-4 hours).
Such a sauna should be mobile, as you may need to move it to another place in your garden. In addition, it is nice to combine these mini-buildings with nature, complement the beauty of the garden. It is better to use wood for building, since a brick structure is inappropriate.
Barrel sauna for garden
For the owner of a small garden, a mini barrel sauna is suitable.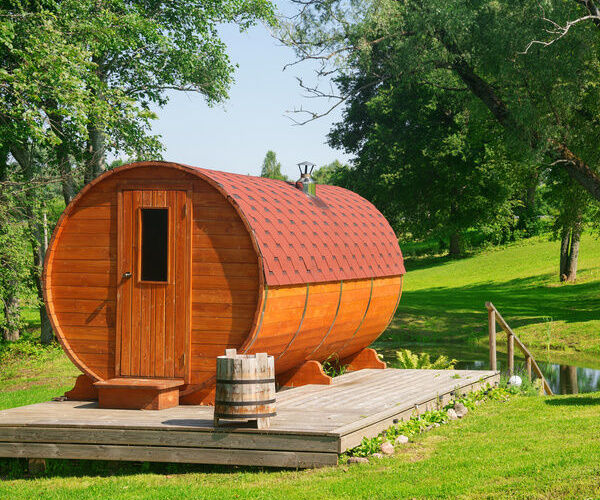 This option deserves a lot of attention, as it has the following advantages:
Durability, reliability.
Mobility.
Short heating time.
Easy to assemble.
Compactness (the optimal size is 2 x 6 m).
Attractive, unusual appearance.
For such a garden sauna, it is better to choose good wood that is resistant to the sun, humid air, hot steam, high temperatures. For example, larch or cedar. For a barrel sauna, too wide planks are not recommended. Ideally 90 mm wide, 40-45 mm thick.
The tent as a garden sauna
Modern market pleases us with ready-made solutions. Nowadays, there are such novelties as mobile tent saunas. You can choose any model to your taste and not waste time and money building a garden sauna! We present to your attention the following models:
MORZH tent - 205 x 205 x 195 cm, 8.3 kg. This tent serves as a garden sauna and a tent for hiking, fishing, hunting.
MORZH Max tent - 197 х 230 х 296 cm, 17.7 kg. Perfect solution for a big company.
MORZH Light tent - 205 х 205 х 195 cm, 6.2 kg. For those who value lightweight construction.