Sauna for 2 and more
Until recently, steam sauna was associated only with a public place where many people could steam at the same time. Fortunately, now there is an opportunity to build a sauna directly in your house or apartment and enjoy it exactly when you want - alone or with your company.
2 person sauna
2 person sauna is becoming more and more popular. Going to the sauna together is art unto itself. Like any other types of saunas, 2 person sauna has some secrets. There is the opportunity to install a small sauna in almost any house or apartment. The most popular are 2 person saunas. They differ in size (even up to 1.5 square meters), but provide an opportunity to steam with pleasure with your family or with your closest friends. In such a company, sauna procedures will be doubly beneficial for health.
The smallest saunas are 1x1.4 m and can comfortably accommodate 2 people. If the size of your house allows you to take more space, then the size can increase - you can make a dressing room, a restroom, a pool.
Your own 2 person sauna has many advantages. Here are just a few of them:
You do not have to pay for visit. This is an important point if you go to sauna regularly.
Such a sauna is more hygienic, because not so many people will take a steam procedure there.
It is much easier for you to relax.
You can either design and build a small sauna yourself, or contact professionals. There are many materials and accessories for small sauna, as well as design solutions. Over time, the invested resources 100% pay off.
If you do not want to spend time and resources on building a stationary 2 person sauna, there is a ready-made solution - camping tent sauna MORZH.
3 person sauna
When choosing optimal size of 3 person sauna, it is worth taking into account the position - sitting or lying.
a sitting position requires a minimum of space;
half-sitting / lying position needs more space;
if you like steaming in a lying position, you need much more space.
The optimal size of sauna for 3 people in a sitting position is 1.3x1.8 m. These dimensions do not include a stove. It is also necessary to prepare some space for bath stove based on its specifications.
If you are building a stationary 3 person sauna, then you need to think about the shelves. It is worth considering that they are installed on different levels.
The smallest one (in width) is on lower level.
The middle shelf is the most commonly used, so it is the widest.
The height from the top shelf to the ceiling not less than a meter so that you can sit comfortably.
The height between sauna shelves is approximately 0.3-0.4 m.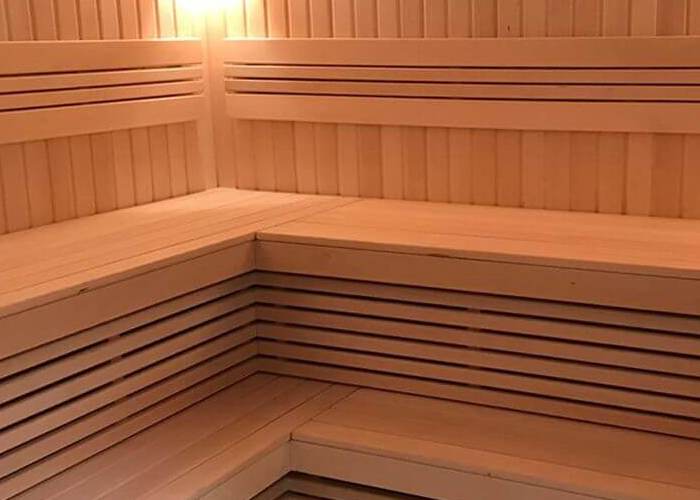 For a mobile tent sauna for 3, you can purchase a camp-cot or a folding shelf.
Large saunas
If you are thinking about a large 10 person sauna or more, then you should get ready to spend some money and time. A stationary sauna for 10 requires a large investment in materials, and it is better to entrust this work to professionals. In addition, a powerful stove is required to heat a large room, so take your choice seriously.
Morzh Max tent is an excellent choice for 10-12. You get a versatile option - a steam room and a camping tent. Morzh tent is made of 3-layer quilted fabric consisting of Oxford 240, heater with 80 g/m2 density, Taffeta 210 RipStop.
And the ability to install 2 stoves inside will provide you with heat up to 120-130 ℃ and even more!