DIY sauna
Sauna has always been popular all over the world. Without a doubt, it brings a lot of benefits. The sauna heals, makes your leisure time varied. Today, many people want to make a sauna themselves, since DIY sauna meets exactly your needs and requests. In this article, we will tell you about DIY sauna.

DIY wooden sauna
The sauna can be wet or dry. In wet one, the air warms up to 80–120 ° С and have a humidity of 7–20%. In a humid sauna, the maximum temperature is 55–70 ° С with 95–100% humidity.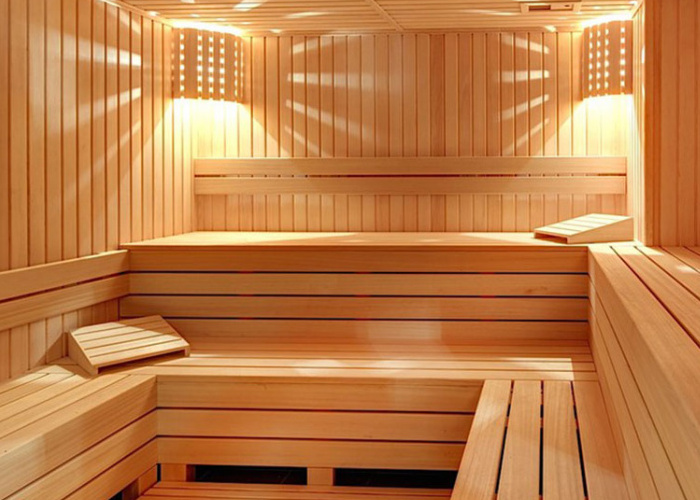 You need to know some features about wooden DIY sauna:
It is better to place the benches on several levels, the distance between them should be about 40 cm.
It is important to install lighting devices in the steam room. The maximum lamp power should be 60 watts. Heat resistance 120-150 ° С. Choose sealed models that do not allow moisture to pass through.
You can make backs behind the benches.
Use temperature resistant materials as flooring (ceramic tiles, etc).
The best material for a door is wood or tempered glass. This also applies to the door handles.
If DIY sauna is located inside a house or apartment, then a window is not necessary. However, for a separate building, you need to make it with double glass.
Shower or pool should be located separately.
Equip a fence around the stove
Stove for DIY sauna
A sauna stove is a heating device which maintains a certain temperature and humidity.
It is the main element for DIY sauna and should provide the following conditions:
heat up to 120 ℃;
humidity 15 - 20%;
safe combustion products removal.
The type of stove for DIY wood sauna does not matter. Can be both electric and wood-fired.
For electric stoves: typically, 220 volts sauna stoves have 7 kW power. This is enough for a small and even medium steam DIY room. The owner of a large sauna needs a large 380 volt stove.
For wood stoves: deciduous species are considered the best firewood for the stove - oak, linden, alder, birch, ash. They burn for a long time, have excellent heat dissipation.
Heat output for some wood:
Ash - 87%
Oak - 70-75%
Birch - 68%
Linden - 55%
Alder - 46%

Think about the following:

Thermal insulation materials. To prevent heat loss, use thermal insulation materials. You also cannot do without a vapor barrier. Heat and vapor barrier are closely related to each other. Vapor barrier is a film that covers the insulation and protects it from steam. Materials for thermal insulation are conventionally divided into solid and soft. Combining them, you can achieve the maximum effect. Solid thermal insulation materials - polystyrene foam, expanded polystyrene, foam insulation, polyurethane foam. Soft thermal insulation materials - ecowool.
Finishing materials. Comfort in your DIY sauna directly depends on the choice of materials. Linden and abasha are the leaders among finishing materials. Cedar, oak, larch, alder, linden, birch, aspen, pine, spruce are also popular. Ceramic tiles are suitable for flooring.
In the stove area, use natural minerals: talcochlorite, serpentinite or jadeite.
The construction of such DIY sauna requires some costs, but it will become an irreplaceable place in your home.
Camping DIY sauna
If you are planning a multi-day trip, then you can design another DIY sauna - a hiking sauna. It is simple and fast.

You will need:
Strong wooden poles or polypropylene pipes for the frame.
Polyethylene film for the awning.
Scotch tape and duct tape to strengthen the connections. If you have a hammer and nails, it's even better.
Stones.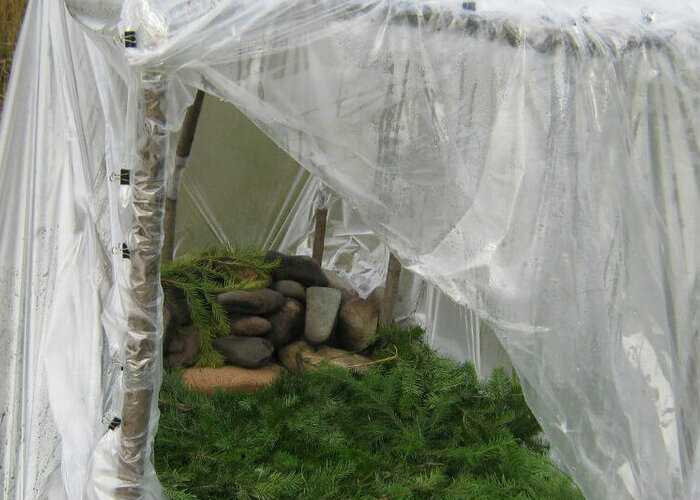 Build a frame using the poles and connect poles part with tape or duct tape. Stretch the polyethylene film on the finished frame and fix with tape. Press down with stones at the bottom. DIY sauna is ready!To heat your DIY sauna, make a fire and place stones in it. The stones will heat up in about 1 hour. Take stones with a shovel and place them inside the sauna. Wait for the temperature to rise.
It takes about 2.5 hours to build and heat steam room.
Ready-made solution
There is also a ready-made solution! Mobile tent sauna MORZH is for those who values time and comfort on the trip. Put the tent in 5-15 minutes and enjoy the heat after 20-30 minutes.