Camping sauna Morzh (Walrus) Cube
Modern 3-layer tent - save fuel
MORZH is really great. Due to the use of modern materials, the tent retains heat much longer than single-layer versions. A tent awning is made of three-layer quilted cloth. You need less fuel to keep the heat.
Quick and simple assembly
The tent is assembled in 2-3 minutes using a special quick-opening mechanism, like all cube tents.
Suitable for all stoves and heat exchangers
There are 3 chimney cuttings in the tent. One is located on the roof and is suitable for a sauna stove with a pipe diameter of 90 mm. And on both sides there are universal valves to put a stove or heat exchanger for heating a tent with a chimney diameter of 65 mm.
2 in 1. Camping sauna or winter tent
3-layer cube-shaped quick-assembly tent. It has optimal dimensions 205 x 205 cm, accommodates 2-4 people comfortably. MORZH CUBE can be used as a mobile sauna. Heating up to 100 C is guaranteed! The tent is like a trapezoid - the lower part is wider, which makes the tent more stable in the wind and adds the necessary space below. MORZH CUBE has two entrances opposite to each other. The tent has large triangular windows on two sides, and there are multifunctional valves on the other two sides. Valves are suitable for chimney, as windows or ventilation.
Fiberglass frame

Reliable, lightweight, eternal frame material is pleasant to the touch, does not leave splinters or scratches.

Reinforced corners

All mechanically stressed places are reinforced with an additional layer of strong fabric, which increases the life of the tent.

Large frost-resistant windows

On both sides of the tent, there are large triangular windows with curtains. Made of the modern TPU material - retains elasticity in cold weather down to -40C.
Extra windows

Instead of the multifunctional valve, you can put the small windows that come with the kit, thereby getting a view from all sides.

Mosquito net

The set comes with 2 mosquito nets, which can be put in place of the multifunctional valves, thereby providing excellent ventilation and insect protection.

Use with MORZH warm floor

Due to Velcro tapes at the bottom of the tent, you can attach a warm floor made of non-slip material.

Double wind skirt to keep out the cold

The tent has two wide skirts - one outside and one inside the tent. They provide great wind protection, which is good for winter fishing, hunting.

Reflective inserts

Reflective elements are sewn on all 4 sides of the tent, allowing you to see the tent in the dark.
Dimensions in assembled and disassembled state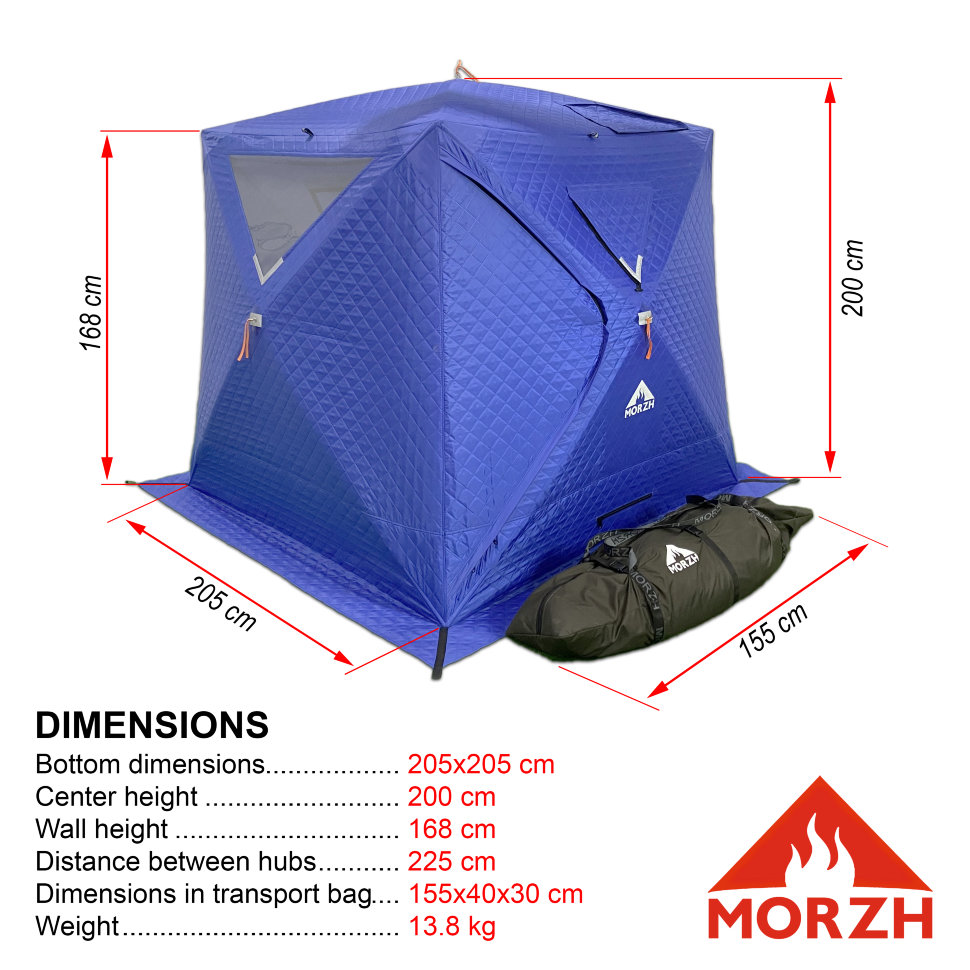 Specifications:
Modification
MORZH CUBE
Weight of set
13.8 kg / 30.8 lbs.

Assemble time
5 min.
Capacity
4-6 people
Max t
Summer up to + 120 C (248 F)
Winter up to + 110 C (230 F) with a temperature -20 (-4 F) outside.
Size (LxWxH)
205 х 205 х 200 cm / 81 x 81 x 78.7 inches.
Effective area
4,2 m²
Number of berths (with stove)
1
Number of berths (without stove)
2
Dimensions in the transport bag
1 bag with dimensions LхWхH 155 х 40 х 30 cm (61 x 15.7 11.8 inches)
Delivery set includes:
Tent 1 pc
Screw pegs 5 pcs
Transport bag 1 pc
Wind guy kit 1 pc
Sauna stones are not included
The stove is NOT INCLUDED. It is sold separately
Also you can order an additional warm floor
Important information
The camouflage and beige colors in the photos show the approximate shade of the awning and may vary depending on the consignment.
The color of the tent inside can be either white or beige, depending on the consignment.
With proper assembly and installation of the tent, the zippers close easily. Be sure to clean the zippers of any dirt before use, otherwise it may damage the zipper teeth.
Categories: Camping Saunas Winter tents
Camping sauna Morzh (Walrus) Cube reviews
Kev Connell

By

Kev Connell

January 5, 2022 19:43

I currently own a Morzh and have been extremely happy with my traditional Morzh (that is until I tried The Morzh Cube!) Wow I absolutley love this product. Althought he floor space is similar to the traditional Morzh it feels twice as spacious. In addition it sets up in a minute with all the poles already in the tent. A variety of venting, door, and window options makes this tent extremely versatile. Highly recommend this tent!!!!
Read all 1 review on Camping sauna Morzh (Walrus) Cube