Camping sauna Morzh (Walrus) with 2 Windows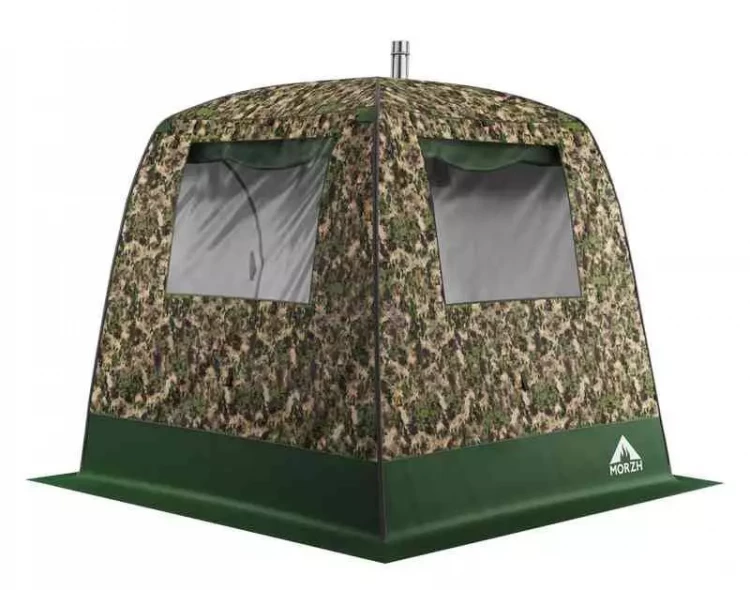 Two windows
This version of MORZH tent has two windows, so it has more light inside!
Modern 3-layer tent - save fuel!
MORZH is really great. Due to the use of modern materials, the tent retains heat much longer than single-layer versions. A tent awning made of three-layer quilted cloth. You need less fuel to keep heat
Safe Stove
The sauna can be equipped with a new powerful, portable, and safe wood stove. In terms of temperature, humidity and sensation, it is a real sauna - 100 C (212 F).
Fits 4-6 People
This sauna tent can fit 4-6 people at the same time. It can be used as a sauna tent, as a fishing tent or simply as a tent for a long term living.
Can be used as a tent for a living
This tent is universal, it can be used as a winter tent for fishing, and as a mobile sauna. In the tent it is possible to install any heater.
Designed for all types of stoves

The tent can be used with any stoves and heat exchangers. The stove can burn actively for quick heating, and it can also burn for a long time for a comfortable living in the tent.

The chimney section is made of stainless steel and special fabric with silicone double-sided coating. For air access there is a vent window with a mosquito net at the bottom of the tent.

Use without stove

For the use of a tent without a stove, there is a sealed valve, which prevents moisture from entering the tent.

Eternal frame

The tent frame is made of alloy D16T - it is an alloy of aluminum with magnesium and copper. Such alloys are called duralumin, and dyurals are used in the aviation and space industries, due to their strength and relative ease.
Tent colors
| | |
| --- | --- |
| Tricolor | |
| Blue-Red | |
| Black | |
| Camouflage | |
Dimensions:
Modification
MORZH 2w
Weight of set
9 kg / 19,84 lbs.

Assemble time
5 min.
Capacity
4-6 people
Max t
Summer up to + 120 C (248 F)
Winter up to + 110 C (230 F) with a temperature -20 (-4 F) outside.
Size (LxWxH)
205 х 205 х 195 cm / 81 x 81 x 77 inches.
*Possible error ± 3 cm (1,18 inches)
Delivery set includes:
Tent for mobile sauna
Framework for tent
Bag for the framework and the tent
Sauna stones are not included
The stove is NOT INCLUDED. It is purchased separately
Also you can order an additional warm floor
Important information
Camping sauna Morzh (Walrus) with 2 Windows reviews
Morzh 2 window review

By

shaun J

October 6, 2021 19:11

I've had the sauna for about a year now. Very impressed with the sauna and stove as well as the customer service. Sauna heats up quickly and gets very hot. I purchased the stone holder but don't think it's needed. I use two wooden benches that fit very nicely inside. Would certainly recommend Morzh saunas.

Stylish and hot

By

Mattew Brents

May 19, 2021 15:37

Beautiful and very comfortable. The windows are spacious, with intent really hot

+

By

Sam Kelly

May 19, 2021 15:33

2 windows looks good and can be closed with a curtain. I like it. Very hot!!

Morzh review

By

Andrew

May 19, 2021 15:30

I have little experience of using it, but made some conclusions. It is very convenient, easy set up by one person. Stable tent, big transport bag, pegs included.
In general, highly recommend this sauna

Worth to purchase!

By

Barney K

May 20, 2020 09:28

To everyone who is considering Morzh purchase, I advise to take a closer look at this particular model. There is also Morzh with 1 window, but from this tent the view is probably better!
Read all 9 reviews on Camping sauna Morzh (Walrus) with 2 Windows