Camping sauna Morzh (Walrus) Double Window + stove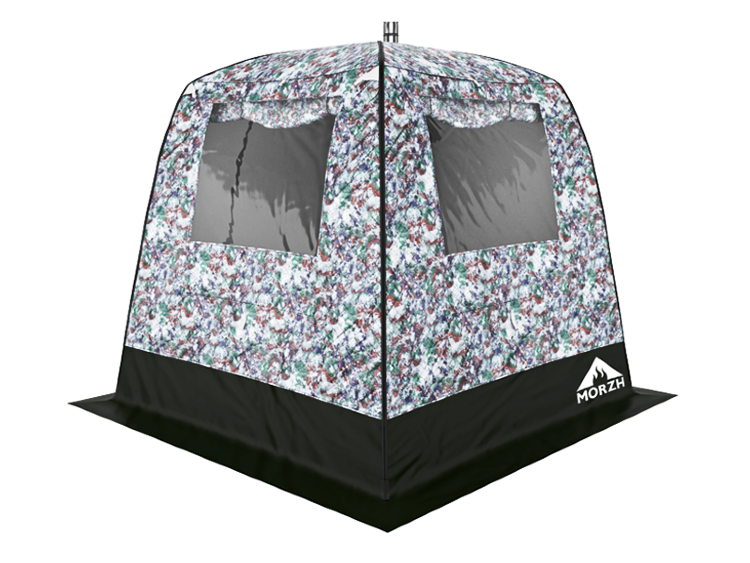 Two windows
This version of the Walrus tent has two windows, so it has more light inside!
Modern 3-layer tent - save on fuel!
The Walrus is really great. Due to the use of modern materials, the tent retains heat much longer than single-layered versions. A tent awning made of three-layer quilted cloth. You need less fuel to keep it
Safe Stove "Midi"
The sauna is equipped with a new powerful, portable, and safe wood stove "Midi". Despite the furnace, from the outside it looks like a conventional tent. But in terms of temperature, humidity, and sensation, it is a real sauna - 110 C (230 F).
Fits 4-6 People
This sauna tent can fit 4-6 people at the same time. It can be used as sauna tents, as fishing tent or simply as tent for a long term living.
Can be used as tent for a living
This tent is universal, it can be used as a winter tent for fishing, and as a mobile hiking bath. In the tent it is possible to install any heater.
Designed for all types of stoves

The tent can be used with any stoves and heat exchangers. The stove can be active and long burning for living.

The chimney section is made of stainless steel and made of special fabric with silicone double-sided coating. For air access there is a vent window with a mosquito net at the bottom of the tent.

Use without stove

For the use of a tent without a stove, a sealed valve is available for cutting, which prevents moisture from entering the tent.

Eternal frame

The tent frame is made of alloy D16T - it is an alloy of aluminum with magnesium and copper. Such alloys are called duralumin, and dyurals are used in the aviation and space industries, due to their strength and relative ease.
Dimensions:
Modification
The Walrus
Weight of set
26 kg / 57 lbs.

Assemble time
5 min.
Capacity
4-6 persons.
Max t
Summer up to + 120 C (248 F)
Winter up to + 110 C (230 F) with a temperature -20 (-4 F) outside.
Size
205 х 205 х 195 cm / 81 x 81 x 77 inches.
Delivery set includes:
Tent for mobile sauna
Framework for tent
Portable furnace Intent
Two separated bags, for the framework and the furnace.
Stones are not included
Also you can order an additional warm floor
Camping sauna Morzh (Walrus) Double Window + stove reviews
Be the first to write a review of this product!